Blathers
Map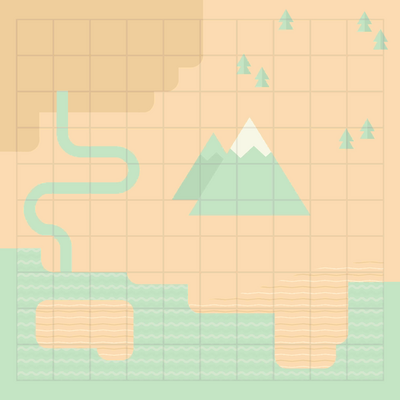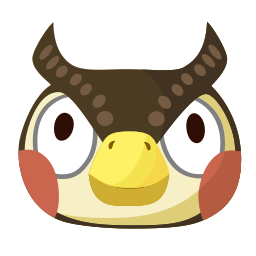 Collect maps and send Blathers on a Treasure Trek in the Blathers Treasure Trek mini-game.
Click Blathers on your Map and select a treasure map to open. Roll the die using Bells or craft materials, and Blathers will move the number of spaces you roll. Depending on the space he lands on, you might get items, new animal friends, and more!
Obtain maps by completing Villager requests, popping balloons, and if you're lucky, maybe Gulliver will bring one back for you!
You can use

Leaf Tickets x5 to instant clear a map and get all the items without playing.
If you missed a prize you can choose to Replay the Map if you have yet to complete it! Replaying does *not* reset the map or prizes you have already obtained, but moves you back to the start position.
You can obtain hidden common and rare rewards by landing on blank spaces!
* Hidden rewards are reset when you replay the map
Type of Map
Quality of Map
Cost Per Roll
Goal Rewards
How to Obtain
Material Maps
Normal
Bells x1,000
Crafting Material x20

Completing Villager requests
Balloons

Essence Maps
Normal
Crafting Material x6
Essence x30

Completing Villager requests
Balloons

Bells Maps
Normal
Friend Powder x3
Bells x5,000

Completing Villager requests
Balloons

Buncha Bells Maps
Gold
Friend Powder x15
Bells x50,000

Completing Villager requests
Balloons

Sparkle Stone Maps
Gold
Bells x10,000
Sparkle Stones x1
Reissue Material Maps
Gold
Bells x10,000
Reissue Material x5

Given as a reward from some event goals

HH Material Maps
Gold
Bells x10,000
HH Material x3

Given as a reward from some event goals

Leaf Ticket Maps
Gold
Bells x30,000
Leaf Ticket x10

Given as a reward from some event goals
Received as a souvenir from Gulliver from some Gold Islands

Lotsa Leaf Tickets Maps
Gold
Bells x50,000
Leaf Ticket x30

Given as a reward from some event goals
Received as a souvenir from Gulliver from some Gold Islands

Villager Maps
Gold
Villager's Theme Essence x12
The specified villager

Received as a souvenir from Gulliver from some Gold Islands
Treasure Trekkers (Villagers)
[
edit
|
edit source
]
| Name | Theme | Material | Furniture Required to Invite | Friendship Rewards |
| --- | --- | --- | --- | --- |
| Agent S | | Wood | This villager is a Gulliver Traveller or a Treasure Trekker and does not have furniture invite requirements. | |
| Anabelle | | Steel | This villager is a Gulliver Traveller or a Treasure Trekker and does not have furniture invite requirements. | |
| Astrid | | Steel | This villager is a Gulliver Traveller or a Treasure Trekker and does not have furniture invite requirements. | |
| Audie | | Steel | This villager is a Gulliver Traveller or a Treasure Trekker and does not have furniture invite requirements. | |
| Bea | | Steel | This villager is a Gulliver Traveller or a Treasure Trekker and does not have furniture invite requirements. | |
| Beardo | | Paper | This villager is a Gulliver Traveller or a Treasure Trekker and does not have furniture invite requirements. | |
| Big Top | | Steel | This villager is a Gulliver Traveller or a Treasure Trekker and does not have furniture invite requirements. | |
| Billy | | Cotton | This villager is a Gulliver Traveller or a Treasure Trekker and does not have furniture invite requirements. | |
| Biskit | | Steel | This villager is a Gulliver Traveller or a Treasure Trekker and does not have furniture invite requirements. | |
| Boris | | Cotton | This villager is a Gulliver Traveller or a Treasure Trekker and does not have furniture invite requirements. | |
| Bruce | | Steel | This villager is a Gulliver Traveller or a Treasure Trekker and does not have furniture invite requirements. | |
| Buck | | Steel | This villager is a Gulliver Traveller or a Treasure Trekker and does not have furniture invite requirements. | |
| Buzz | | Paper | This villager is a Gulliver Traveller or a Treasure Trekker and does not have furniture invite requirements. | |
| Cashmere | | Paper | This villager is a Gulliver Traveller or a Treasure Trekker and does not have furniture invite requirements. | |
| Celia | | Paper | This villager is a Gulliver Traveller or a Treasure Trekker and does not have furniture invite requirements. | |
| Chadder | | Cotton | This villager is a Gulliver Traveller or a Treasure Trekker and does not have furniture invite requirements. | |
| Chai | | Steel | This villager is a Gulliver Traveller or a Treasure Trekker and does not have furniture invite requirements. | No Special Request Craft |
| Chelsea | | Steel | This villager is a Gulliver Traveller or a Treasure Trekker and does not have furniture invite requirements. | No Special Request Craft |
| Chief | | Steel | This villager is a Gulliver Traveller or a Treasure Trekker and does not have furniture invite requirements. | |
| Claude | | Wood | This villager is a Gulliver Traveller or a Treasure Trekker and does not have furniture invite requirements. | |
| Cleo | | Steel | This villager is a Gulliver Traveller or a Treasure Trekker and does not have furniture invite requirements. | |
| Coco | | Wood | This villager is a Gulliver Traveller or a Treasure Trekker and does not have furniture invite requirements. | |
| Cole | | Wood | This villager is a Gulliver Traveller or a Treasure Trekker and does not have furniture invite requirements. | |
| Curly | | Cotton | This villager is a Gulliver Traveller or a Treasure Trekker and does not have furniture invite requirements. | |
| Cyd | | Steel | This villager is a Gulliver Traveller or a Treasure Trekker and does not have furniture invite requirements. | |
| Daisy | | Steel | This villager is a Gulliver Traveller or a Treasure Trekker and does not have furniture invite requirements. | |
| Dom | | Paper | This villager is a Gulliver Traveller or a Treasure Trekker and does not have furniture invite requirements. | |
| Dora | | Cotton | This villager is a Gulliver Traveller or a Treasure Trekker and does not have furniture invite requirements. | |
| Drift | | Wood | This villager is a Gulliver Traveller or a Treasure Trekker and does not have furniture invite requirements. | |
| Erik | | Steel | This villager is a Gulliver Traveller or a Treasure Trekker and does not have furniture invite requirements. | |
| Étoile | | Paper | This villager is a Gulliver Traveller or a Treasure Trekker and does not have furniture invite requirements. | No Special Request Craft |
| Felicity | | Wood | This villager is a Gulliver Traveller or a Treasure Trekker and does not have furniture invite requirements. | |
| Gayle | | Wood | This villager is a Gulliver Traveller or a Treasure Trekker and does not have furniture invite requirements. | |
| Gloria | | Steel | This villager is a Gulliver Traveller or a Treasure Trekker and does not have furniture invite requirements. | |
| Graham | | Wood | This villager is a Gulliver Traveller or a Treasure Trekker and does not have furniture invite requirements. | |
| Groucho | | Paper | This villager is a Gulliver Traveller or a Treasure Trekker and does not have furniture invite requirements. | |
| Henry | | Wood | This villager is a Gulliver Traveller or a Treasure Trekker and does not have furniture invite requirements. | |
| Hippeux | | Cotton | This villager is a Gulliver Traveller or a Treasure Trekker and does not have furniture invite requirements. | |
| Huck | | Wood | This villager is a Gulliver Traveller or a Treasure Trekker and does not have furniture invite requirements. | |
| Jacob | | Preserves | This villager is a Gulliver Traveller or a Treasure Trekker and does not have furniture invite requirements. | |
| Jacques | | Preserves | This villager is a Gulliver Traveller or a Treasure Trekker and does not have furniture invite requirements. | |
| Jeremiah | | Wood | This villager is a Gulliver Traveller or a Treasure Trekker and does not have furniture invite requirements. | |
| Judy | | Steel | This villager is a Gulliver Traveller or a Treasure Trekker and does not have furniture invite requirements. | |
| Kevin | | Cotton | This villager is a Gulliver Traveller or a Treasure Trekker and does not have furniture invite requirements. | |
| Kitt | | Steel | This villager is a Gulliver Traveller or a Treasure Trekker and does not have furniture invite requirements. | |
| Klaus | | Paper | This villager is a Gulliver Traveller or a Treasure Trekker and does not have furniture invite requirements. | |
| Leopold | | Cotton | This villager is a Gulliver Traveller or a Treasure Trekker and does not have furniture invite requirements. | |
| Lolly | | Wood | This villager is a Gulliver Traveller or a Treasure Trekker and does not have furniture invite requirements. | |
| Lyman | | Paper | This villager is a Gulliver Traveller or a Treasure Trekker and does not have furniture invite requirements. | |
| Maddie | | Steel | This villager is a Gulliver Traveller or a Treasure Trekker and does not have furniture invite requirements. | |
| Marina | | Paper | This villager is a Gulliver Traveller or a Treasure Trekker and does not have furniture invite requirements. | |
| Marty | | Steel | This villager is a Gulliver Traveller or a Treasure Trekker and does not have furniture invite requirements. | No Special Request Craft |
| Megan | | Paper | This villager is a Gulliver Traveller or a Treasure Trekker and does not have furniture invite requirements. | |
| Murphy | | Steel | This villager is a Gulliver Traveller or a Treasure Trekker and does not have furniture invite requirements. | |
| Nana | | Steel | This villager is a Gulliver Traveller or a Treasure Trekker and does not have furniture invite requirements. | |
| O'Hare | | Wood | This villager is a Gulliver Traveller or a Treasure Trekker and does not have furniture invite requirements. | |
| Olive | | Steel | This villager is a Gulliver Traveller or a Treasure Trekker and does not have furniture invite requirements. | |
| Olivia | | Wood | This villager is a Gulliver Traveller or a Treasure Trekker and does not have furniture invite requirements. | |
| Opal | | Steel | This villager is a Gulliver Traveller or a Treasure Trekker and does not have furniture invite requirements. | |
| Pancetti | | Cotton | This villager is a Gulliver Traveller or a Treasure Trekker and does not have furniture invite requirements. | |
| Paolo | | Steel | This villager is a Gulliver Traveller or a Treasure Trekker and does not have furniture invite requirements. | |
| Pate | | Steel | This villager is a Gulliver Traveller or a Treasure Trekker and does not have furniture invite requirements. | |
| Pecan | | Wood | This villager is a Gulliver Traveller or a Treasure Trekker and does not have furniture invite requirements. | |
| Pinky | | Paper | This villager is a Gulliver Traveller or a Treasure Trekker and does not have furniture invite requirements. | |
| Piper | | Preserves | This villager is a Gulliver Traveller or a Treasure Trekker and does not have furniture invite requirements. | |
| Plucky | | Wood | This villager is a Gulliver Traveller or a Treasure Trekker and does not have furniture invite requirements. | |
| Pompom | | Steel | This villager is a Gulliver Traveller or a Treasure Trekker and does not have furniture invite requirements. | |
| Queenie | | Steel | This villager is a Gulliver Traveller or a Treasure Trekker and does not have furniture invite requirements. | |
| Raymond | | Wood | This villager is a Gulliver Traveller or a Treasure Trekker and does not have furniture invite requirements. | |
| Reneigh | | Steel | This villager is a Gulliver Traveller or a Treasure Trekker and does not have furniture invite requirements. | |
| Rhonda | | Paper | This villager is a Gulliver Traveller or a Treasure Trekker and does not have furniture invite requirements. | |
| Rilla | | Steel | This villager is a Gulliver Traveller or a Treasure Trekker and does not have furniture invite requirements. | No Special Request Craft |
| Rizzo | | Cotton | This villager is a Gulliver Traveller or a Treasure Trekker and does not have furniture invite requirements. | |
| Rocket | | Steel | This villager is a Gulliver Traveller or a Treasure Trekker and does not have furniture invite requirements. | |
| Rod | | Cotton | This villager is a Gulliver Traveller or a Treasure Trekker and does not have furniture invite requirements. | |
| Rolf | | Preserves | This villager is a Gulliver Traveller or a Treasure Trekker and does not have furniture invite requirements. | |
| Rowan | | Preserves | This villager is a Gulliver Traveller or a Treasure Trekker and does not have furniture invite requirements. | |
| Ruby | | Wood | This villager is a Gulliver Traveller or a Treasure Trekker and does not have furniture invite requirements. | |
| Savannah | | Steel | This villager is a Gulliver Traveller or a Treasure Trekker and does not have furniture invite requirements. | |
| Sherb | | Cotton | This villager is a Gulliver Traveller or a Treasure Trekker and does not have furniture invite requirements. | |
| Snooty | | Steel | This villager is a Gulliver Traveller or a Treasure Trekker and does not have furniture invite requirements. | |
| Spike | | Paper | This villager is a Gulliver Traveller or a Treasure Trekker and does not have furniture invite requirements. | |
| Sylvana | | Wood | This villager is a Gulliver Traveller or a Treasure Trekker and does not have furniture invite requirements. | |
| Tammy | | Steel | This villager is a Gulliver Traveller or a Treasure Trekker and does not have furniture invite requirements. | |
| Tasha | | Wood | This villager is a Gulliver Traveller or a Treasure Trekker and does not have furniture invite requirements. | |
| Teddy | | Paper | This villager is a Gulliver Traveller or a Treasure Trekker and does not have furniture invite requirements. | |
| Toby | | Wood | This villager is a Gulliver Traveller or a Treasure Trekker and does not have furniture invite requirements. | No Special Request Craft |
| Truffles | | Cotton | This villager is a Gulliver Traveller or a Treasure Trekker and does not have furniture invite requirements. | |
| Wade | | Cotton | This villager is a Gulliver Traveller or a Treasure Trekker and does not have furniture invite requirements. | |
| Yuka | | Paper | This villager is a Gulliver Traveller or a Treasure Trekker and does not have furniture invite requirements. | |