Campsite
Map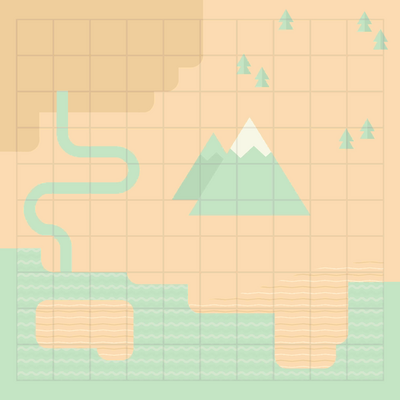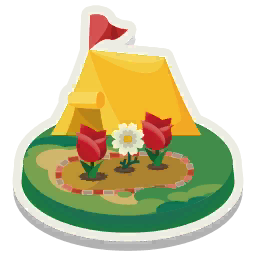 The campsite is the player's personal area where they can customize with furniture as well as invite and host villagers with high enough friendship.
The campsite's customization area is 13x7 (26x14) and has a limit of 40 placed items.
The garden is where the player can plant seeds and grow flowers. It is also where Garden Events are held.
See Garden for more information.
On February 21st, 2018, the ability to customize the campsite terrain was introduced and is unlocked when the player reaches level 13. This includes the:
Middle Ground
Foreground
Background *
Sky *
Fence *
Wooden Deck
*Features added on March 14th, 2018.
When selecting the Campsite Terrain customization option, a player can also preview their terrain during the day/night as well as the four seasons (Spring/Summer/Fall/Winter).
A player can also purchase new terrain customization options using Craft Materials or Leaf Tickets. These unpurchased terrain customizations can be previewed before purchase.
| Campsite Terrain | Description | Obtain | Cost |
| --- | --- | --- | --- |
| Regal Garden (Middle) | Add a mansion and blooming roses to your camp's gathering place. | Obtained via purchase from campsite terrain customization. | 100 Leaf Ticket |
| Sakura Grove (Middle) | Adds sakura trees to your camp's gathering place. | Obtained via purchase from campsite terrain customization. | 250 Leaf Ticket |
| Field (Middle) | N/A | Obtained by default. | |
| Bamboo (Middle) | Adds rustic charm to your camp's gathering place. | Obtained via purchase from campsite terrain customization. | 20000 Bells |
| Flower Bed (Middle) | Adds blooming flowers to your camp's gathering place. | Obtained via purchase from campsite terrain customization. | 150 Leaf Ticket |
| Holiday Lights (Middle) | Makes your camp's gathering place feel festive and bright. | Obtained via purchase from campsite terrain customization. | 150 Leaf Ticket |
| Forest (Middle) | N/A | Obtained by default. | |
| Spring Garden (Middle) | Adds blooming spring flowers to your camp's gathering place. | Complete Task 4-9: Collect Navy Flower Ladybug x35 during Leif's Spring Flowers Event or purchase from campsite terrain customization. | 250 Leaf Ticket |
| Birch Trees (Middle) | Adds a river and birch trees to your camp gathering place. | Obtained via purchase from campsite terrain customization. | 250 Leaf Ticket |
| Seafloor (Middle) | Adds coral to your camp's gathering place. | Obtained via purchase from campsite terrain customization. | 250 Leaf Ticket |
| Sunflower Field (Middle) | Adds sunflower patches to your camp's gathering place. | Obtained via purchase from campsite terrain customization. | 250 Leaf Ticket |
| Spooky (Middle) | Adds some spookiness to your camp's gathering place. | Obtained via purchase from campsite terrain customization. | 250 Leaf Ticket |
| First Anniversary (Middle) | Adds colorful tiles to your camp's gathering place. | Obtained via mailbox as a Special Event Gift or purchase from campsite terrain customization. | 100 Leaf Ticket |
| Eerieville (Middle) | Adds a monochrome floor to your camp's gathering place. | Obtained via purchase from campsite terrain customization. | 250 Leaf Ticket |
| Brilliant Bamboo (Middle) | Adds a lit-up bamboo thicket to your camp's gathering place. | Obtained via purchase from campsite terrain customization. | 250 Leaf Ticket |
| Wonderland Forest (Middle) | Adds a red checkered carpet to your campsite. | Obtained via purchase from campsite terrain customization. | 250 Leaf Ticket |
| Tulip Field (Middle) | Adds a tulip garden to your camp's gathering place. | Obtained via purchase from campsite terrain customization. | 250 Leaf Ticket |
| Sakura Garden (Middle) | Covers your camp's gathering place in blooming pink sakura. | Obtained via purchase from campsite terrain customization. | 250 Leaf Ticket |
| Forest Chapel (Middle) | Adds a chapel and lush greenery to your camp's gathering place. | Obtained via purchase from campsite terrain customization. | 250 Leaf Ticket |
| Seaside Stay (Middle) | Adds a nautical townscape to your camp's gathering place. | Obtained via purchase from campsite terrain customization. | 250 Leaf Ticket |
| Ginkgo Row (Middle) | Lines your camp's gathering place with ginkgo trees. | Obtained via purchase from campsite terrain customization. | 250 Leaf Ticket |
| Enchanted Forest (Middle) | Adds a crescent moon and stars to your camp's gathering place. | Obtained via purchase from campsite terrain customization. | 250 Leaf Ticket |
| Fairy Forest (Middle) | Adds giant plants to your camp's gathering place. | Obtained via purchase from campsite terrain customization. | 250 Leaf Ticket |
| Old-Timey Town (Middle) | Gives your camp's gathering place an old-timey city feel. | Obtained via purchase from campsite terrain customization. | 250 Leaf Ticket |
| Glistening Lights (Middle) | Adds a festive holiday feel to your camp's gathering place. | Obtained via purchase from campsite terrain customization. | 250 Leaf Ticket |
| Beach Resort (Middle) | Gives your camp's gathering place a beachy summer feel. | Obtained via purchase from campsite terrain customization. | 300 Leaf Ticket |
| Cloud Kingdom (Middle) | Covers your camp's gathering place in clouds. | Obtained via purchase from campsite terrain customization. | 250 Leaf Ticket |
| Snowscape (Middle) | Adds a blanket of snow to your camp's gathering place. | Obtained via purchase from campsite terrain customization. | 250 Leaf Ticket |
| Campsite Terrain | Description | Obtain | Cost |
| --- | --- | --- | --- |
| Regal Garden (Fore) | Adds a blue rose garden to your camp's entrance. | Obtained via purchase from campsite terrain customization. | 100 Leaf Ticket |
| Sakura Grove (Fore) | Adds blooming sakura trees to your camp's entrance. | Obtained via purchase from campsite terrain customization. | 150 Leaf Ticket |
| Field (Fore) | N/A | Obtained by default. | |
| Bamboo (Fore) | Adds rustic charm to your camp's entrance. | Obtained via purchase from campsite terrain customization. | 20000 Bells |
| Flower Bed (Fore) | Adds blooming flowers to your camp's entrance. | Obtained via purchase from campsite terrain customization. | 150 Leaf Ticket |
| Holiday Lights (Fore) | Makes your camp's entrance feel festive and bright. | Obtained via purchase from campsite terrain customization. | 150 Leaf Ticket |
| Forest (Fore) | N/A | Obtained by default. | |
| Spring Garden (Fore) | Adds springtime flowers to your camp's entrance. | Complete Task 2-9: Collect Yellow Flower Ladybug x40 during Leif's Spring Flowers Event or purchase from campsite terrain customization. | 150 Leaf Ticket |
| Birch Trees (Fore) | Adds a river and birch trees to your camp's entrance. | Obtained via purchase from campsite terrain customization. | 150 Leaf Ticket |
| Seafloor (Fore) | Adds coral to your camp's entrance. | Obtained via purchase from campsite terrain customization. | 150 Leaf Ticket |
| Sunflower Field (Fore) | Adds sunflower patches to your camp's entrance. | Obtained via purchase from campsite terrain customization. | 150 Leaf Ticket |
| Spooky (Fore) | Adds some spookiness to your camp's entrance. | Obtained via purchase from campsite terrain customization. | 150 Leaf Ticket |
| First Anniversary (Fore) | Adds flowers and balloons to your camp's entrance. | Obtained via purchase from campsite terrain customization. | 100 Leaf Ticket |
| Eerieville (Fore) | Makes the entrance to your camp look ominously gray. | Obtained via purchase from campsite terrain customization. | 150 Leaf Ticket |
| Brilliant Bamboo (Fore) | Adds a lit-up bamboo thicket to your camp's entrance. | Obtained via purchase from campsite terrain customization. | 150 Leaf Ticket |
| Wonderland Forest (Fore) | Adds a red welcome carpet to your campsite. | Obtained via purchase from campsite terrain customization. | 150 Leaf Ticket |
| Tulip Field (Fore) | Adds a tulip garden to your camp's entrance. | Obtained via purchase from campsite terrain customization. | 150 Leaf Ticket |
| Sakura Garden (Fore) | Covers your camp's entrance in blooming pink sakura. | Obtained via purchase from campsite terrain customization. | 150 Leaf Ticket |
| Forest Chapel (Fore) | Adds tidy grass and white-stone tiles to your camp's entrance. | Obtained via purchase from campsite terrain customization. | 150 Leaf Ticket |
| Seaside Stay (Fore) | Adds a fountain and sidewalk to your camp's entrance. | Obtained via purchase from campsite terrain customization. | 150 Leaf Ticket |
| Ginkgo Row (Fore) | Lines your camp's entrance with ginkgo trees. | Obtained via purchase from campsite terrain customization. | 150 Leaf Ticket |
| Enchanted Forest (Fore) | Lines your camp's entrance with colorful stars and trees. | Obtained via purchase from campsite terrain customization. | 150 Leaf Ticket |
| Fairy Forest (Fore) | Adds giant plants to your camp's entrance. | Obtained via purchase from campsite terrain customization. | 150 Leaf Ticket |
| Old-Timey Town (Front) | Adds a canal and a brick bridge to your camp's entrance. | Obtained via purchase from campsite terrain customization. | 150 Leaf Ticket |
| Glistening Lights (Fore) | Adds a festive holiday feel to your camp's entrance. | Obtained via purchase from campsite terrain customization. | 150 Leaf Ticket |
| Beach Resort (Fore) | Makes the entrance to your camp a sandy summer beach. | Obtained via purchase from campsite terrain customization. | 150 Leaf Ticket |
| Cloud Kingdom (Fore) | Covers your camp's entrance in clouds. | Obtained via purchase from campsite terrain customization. | 150 Leaf Ticket |
| Snowscape (Fore) | Adds a blanket of snow to your camp's entrance. | Obtained via purchase from campsite terrain customization. | 150 Leaf Ticket |
| Campsite Terrain | Description | Obtain | Cost |
| --- | --- | --- | --- |
| Lakeside Field | Adds a gorgeous view to your camp's background. | Obtained via purchase from campsite terrain customization. | 5000 Bells |
| Forest (Back) | N/A | Obtained by default. | |
| Seafloor (Back) | Adds coral to your camp's background. | Obtained via purchase from campsite terrain customization. | 150 Leaf Ticket |
| Spooky (Back) | Adds some spookiness to your camp's background. | Obtained via purchase from campsite terrain customization. | 150 Leaf Ticket |
| Balloons (Back) | Adds floating balloons to your camp's background. | Obtained via purchase from campsite terrain customization. | 100 Leaf Ticket |
| Eerieville (Back) | Adds a spooky landscape to your camp's background. | Obtained via purchase from campsite terrain customization. | 150 Leaf Ticket |
| Tulip Field (Back) | Adds a tulip garden to your camp's background. | Obtained via purchase from campsite terrain customization. | 150 Leaf Ticket |
| Seaside Stay (Rear) | Adds an ocean view to your camp's background. | Obtained via purchase from campsite terrain customization. | 150 Leaf Ticket |
| Beach Resort (Back) | Adds a deep blue ocean to your campsite's background. | Obtained via purchase from campsite terrain customization. | 150 Leaf Ticket |
| Cloud Kingdom (Back) | Adds clouds to your camp's background. | Obtained via purchase from campsite terrain customization. | 150 Leaf Ticket |
| Snowscape (Back) | Adds a blanket of snow to your camp's background. | Obtained via purchase from campsite terrain customization. | 150 Leaf Ticket |
| Campsite Terrain | Description | Obtain | Cost |
| --- | --- | --- | --- |
| Confetti Sky | Confetti will fall from the sky over your campsite. | Obtained via purchase from campsite terrain customization. | 100 Leaf Ticket |
| Aurora Sky | Brings the northern lights to the sky over your campsite. | Obtained via purchase from campsite terrain customization. | 300 Leaf Ticket |
| Sakura-Flurry Sky | Makes sakura petals drift down from your camp's sky. | Obtained via purchase from campsite terrain customization. | 300 Leaf Ticket |
| Feather-Weather Sky | A tempest of black feathers will fall from a red sky. | Obtained via purchase from campsite terrain customization. | 300 Leaf Ticket |
| Dancing-Lights Sky | Fills the sky above your camp with shimmering lights. | Obtained via purchase from campsite terrain customization. | 300 Leaf Ticket |
| Rainy Sky | Sun-showers sprinkle down over the campsite. | Obtained via purchase from campsite terrain customization. | 300 Leaf Ticket |
| Floating-Lanterns Sky | Lanterns bathe the campsite in soft, soothing light. | Obtained via purchase from campsite terrain customization. | 300 Leaf Ticket |
| Galaxy-View Sky | Brings a galactic view to the sky over your campsite. | Obtained via purchase from campsite terrain customization. | 300 Leaf Ticket |
| Snowy Sky | A flurry of snowflakes will fall from your campsite's sky. | Obtained via purchase from campsite terrain customization. | 300 Leaf Ticket |
| Lunar Rainbow Sky | Makes your campsite feel like it's in the clouds. | Obtained via purchase from campsite terrain customization. | 300 Leaf Ticket |
| Lunar Comet Sky | Makes your campsite feel like it's part of the night sky. | Obtained via purchase from campsite terrain customization. | 300 Leaf Ticket |
| Forest (Sky) | N/A | Obtained by default. | |
| Fireworks Sky | Adds fireworks to the sky over your campsite. | Obtained via purchase from campsite terrain customization. | 300 Leaf Ticket |
| Ocean Sky | Makes your camp look like it's under the sea. | Obtained via purchase from campsite terrain customization. | 300 Leaf Ticket |
| Spooky Sky | Adds some spookiness to the sky above your campsite. | Obtained via purchase from campsite terrain customization. | 300 Leaf Ticket |
| Eerieville Sky | Adds fake gray clouds to the sky above your campsite. | Obtained via purchase from campsite terrain customization. | 300 Leaf Ticket |
| Checkered Sky | Adds a surreal checkerboard pattern to the campsite's sky. | Obtained via purchase from campsite terrain customization. | 300 Leaf Ticket |
| Balloon-Filled Sky | Adds colorful hot-air balloons to the sky over your campsite. | Obtained via purchase from campsite terrain customization. | 300 Leaf Ticket |
| Autumn Ginkgo Sky | Gives your camp an autumn sky with drifting ginkgo leaves. | Obtained via purchase from campsite terrain customization. | 300 Leaf Ticket |
| Enchanted Starry Sky | Fills the sky above your camp with magical shining stars. | Obtained via purchase from campsite terrain customization. | 300 Leaf Ticket |
| Beach-Resort Sky | Adds big fluffy clouds and a starry night sky to your camp. | Obtained via purchase from campsite terrain customization. | 250 Leaf Ticket |
| Campsite Terrain | Description | Obtain | Cost |
| --- | --- | --- | --- |
| Fairy Forest (Fence) | A fence fit for a fairy forest. | Obtained via purchase from campsite terrain customization. | 200 Leaf Ticket |
| Old-Timey Iron Fence | An old-timey fence. | Obtained via purchase from campsite terrain customization. | 200 Leaf Ticket |
| Eerieville Iron Fence | A sinister-looking fence. | Obtained via purchase from campsite terrain customization. | 200 Leaf Ticket |
| Regal Garden Fence | A fence made from regal arches and blue roses. | Obtained via purchase from campsite terrain customization. | 100 Leaf Ticket |
| Glistening Lights Fence | A whimsical fence that's covered in lights. | Obtained via purchase from campsite terrain customization. | 200 Leaf Ticket |
| Brilliant Bamboo Fence | A lit-up bamboo fence. | Obtained via purchase from campsite terrain customization. | 200 Leaf Ticket |
| Fence of Cards | A fence of playing cards. | Obtained via purchase from campsite terrain customization. | 200 Leaf Ticket |
| Tulip-Field Fence | A fence fit for a tulip garden. | Obtained via purchase from campsite terrain customization. | 200 Leaf Ticket |
| Sakura Garden Stones | Garden stones that perfectly complement a sakura park. | Obtained via purchase from campsite terrain customization. | 200 Leaf Ticket |
| Coral (Fence) | A fence made from coral and shells. | Obtained via purchase from campsite terrain customization. | 200 Leaf Ticket |
| Waterfall Fence | Flowing waterfalls add to the serenity of your campsite. | Obtained via purchase from campsite terrain customization. | 200 Leaf Ticket |
| Seaside Fence | A blue fence perfectly fit for a seaside town. | Obtained via purchase from campsite terrain customization. | 200 Leaf Ticket |
| Red Brick Fence | A red brick fence with antique lights. | Obtained via purchase from campsite terrain customization. | 200 Leaf Ticket |
| Enchanted Starry Fence | Mysterious floating stars. | Obtained via purchase from campsite terrain customization. | 200 Leaf Ticket |
| Log (Fence) | N/A | Obtained by default. | |
| Spooky (Fence) | A spooky fence. | Obtained via purchase from campsite terrain customization. | 200 Leaf Ticket |
| White Iron (Fence) | A fence fit for a celebration. | Obtained via purchase from campsite terrain customization. | 100 Leaf Ticket |
| Campsite Terrain | Description | Obtain | Cost |
| --- | --- | --- | --- |
| Blue Deck | A blue wooden deck. | Obtained via purchase from campsite terrain customization. | 200 Wood |
| Dark-Brown Deck | A dark-brown wooden deck. | Obtained via purchase from campsite terrain customization. | 200 Wood |
| Autumnal Brown Deck | A wooden deck perfect for showing off fallen leaves. | Obtained via purchase from campsite terrain customization. | 200 Wood |
| Spooky Deck | A spooky wooden deck. | Obtained via purchase from campsite terrain customization. | 50 Leaf Ticket |
| Party Stage | A wooden deck perfect for hosting parties on. | Obtained via purchase from campsite terrain customization. | 20 Leaf Ticket |
| Light-Brown Deck | A light-brown wooden deck. | Obtained via purchase from campsite terrain customization. | 200 Wood |
| No Deck | N/A | Obtained by default. | |
| White Deck | N/A | Obtained by default. | |